Today I'm writing a little off the record. Since returning from Norway, I've had a lot work to do and my health hasn't been up to scratch. This morning I realised that there was no blog post for a long time and I decided to write one 😉. With a topic that has been on my mind for almost a year.
Anyone who reads my blog regularly will be familiar with my recent euphoric reports on the developments of the newer lenses, such as the 600 TCS, 400/4.5 and 24-120/4. I am regularly delighted by the progress made in terms of weight and stabilisation etc.
Today, however, I would like to take a critical look at a technical issue that I have been noticing for years and which, in my opinion, has become even more important in the age of DSLMs. It's about the technical development of cameras, especially the so-called "high-end cams" from major camera manufacturers. And in particular the autofocus performance.
These "messages" can sometimes be confusing, especially for "newcomers" in the field of photography, which is why I approach the topic from two sides: one more theoretical/logical and the other more practical.
The theory: From numbers to "facts"
Let's get straight to the point: in my opinion, this is about the massively exaggerated performance comparisons between individual cameras and camera generations, especially when it comes to autofocus. I experience this in conversations, read it in photo forums, see it in YouTube reviews, on manufacturers' websites and in many other places. And the importance of the topic suggested there somehow doesn't match up with my practical experience in photography.
Time and again, a massive technical revolution in AF is attributed to a brand new camera generation or one that is in the starting blocks. Not only by manufacturers (understandable), but also by many experienced photographers who still seem to be searching for the holy grail. The fact that this sometimes takes on absurd proportions is particularly noticeable when you look back in time:
I'm not starting here in 2008, when a Nikon D3, for example, was already said to have phenomenal autofocus quality 😅 Let's start a little later: the same photographers and "reviewers" who are throwing superlatives around today, in 2023, stated as early as 2017, for example, when testing a Nikon d850 or Canon 5d Mark IV, that the autofocus performance was massively superior to its predecessors. It was noted that there were now "almost no more rejects", for example when shooting birds in flight or running animals. In 2017, success rates of at least 95% and higher were claimed.
Now I don't have a master's degree in maths, but I do know a few things: according to detailed calculations, there are 5 percentage points between the 95% mentioned above and the maximum theoretically achievable 100%. So how can it be that AF performance has been improving "by worlds" from model to model and across all brands for years? Do today's cameras produce more sharp images in a flying scene than shutter releases? 😂 I think not...
By the way, do I personally think the 95% from back then is realistic? Well, in some very difficult situations, the rate was sometimes significantly lower. That depended, for example, on the flight behaviour and above all on the contrast in the background. Especially when the conditions are poor and unphotogenic (such as a turbulent background), the success rate drops. You could also see this as a good warning indicator 😉 If it's not a frontal zigzag flight and the background is reasonably low-contrast, then I would say a 90% success rate with the d850 would be fine.
That just assumed that I could operate the camera very routinely and that you don't just photograph flying birds in frontal flight, but a completely normal motif mix of a nature photographer 😉 BUT: I'm not at all concerned with reality, but with the above-mentioned reviews, so continue with the text:
It`s funny to read all the possible cross-comparisons on the net: a d850 was already very good, but a D5 was even better, then came the DSLMs, for example with an R3 as the non plus ultra - stop no, most recently it was the R6II with a huge step forward - but stop - the Sony A1 is and remains the measure of all things, of course, although no - now the A9 III is coming, which will break all records again... words like this really make sense in a range of 5-10%, don't they? 🤦‍♂️
All of this also produces the view that inexperienced photographers have repeatedly read and heard, that better cameras automatically lead to better pictures. In practice, this is far from the case. I would like to go into this in more detail in order to explain this in a more practical way to potential beginners and newcomers.
In practice: how important are current camera/autofocus developments for my personal photographic success?
I also really appreciate many things about my new cameras, such as those described in this article when I switched to DSLM. The increased FPS and the electronic viewfinder in particular help me a lot. The automatic subject recognition is also very convenient in many situations and I regularly enjoy it. However, this plays an absolutely subordinate role in the real "success" of my photography. I would like to explain this in more detail:
Many of my blog series come about by chance and through impulses from nature. However, I always have 2-3 long-term "favorite wishes" each year and create a kind of annual plan, if only to plan my travels. This is also the case with my photographic wishes this year: for example, the photography of a white Arctic fox, the idea of a hoopoe picture specifically on the Balearic lichen or the wish for a musk ox calf in autumn colours. I already had all three motifs in mind in January.
Over the years, it is always the same factors that determine the success or failure of such pictures. I'll try to categorise the importance of the topic of camera/autofocus in this context - here are 10 specific factors, sorted by real relevance from my experience, which are really decisive in the implementation. Using the example of wildlife photography:
Will I succeed in researching a new spot or species in such a way that I really have a realistic chance of a sighting and that the effort and costs are worthwhile?
Do I have the courage to take the residual risks to really tackle such a project or will I end up finding 100 good reasons to put it off until next year? (strong impact!)
Do the selected locations, seasons and conditions allow me to realise my motifs in a truly photogenic way, giving me sufficient creative freedom and allowing me to determine my own perspectives?
Will I be able to find the animals I have in mind during a suitable period of time, will the search be successful?
Can I get close enough - with or without camouflage?
Can I photograph the animal in an area with a nice background?
Will the weather be favourable for the realisation of my picture ideas?
Am I lucky enough to photograph the animal in the optimum - usually narrow - time window?
Is a sufficiently photogenic low/high perspective of the animal possible?
Does too much flickering in the air put a spanner in the works? Etc...
...in my experience, a question like "Can I fully utilise the moments of the sighting in good conditions or does my camera / AF miss?" doesn't even appear in the TOP20 of the most relevant factors. Even if I can imagine that such a question would certainly be ranked higher for a photography beginner, for example.
In any case, THESE are the key success factors for every trip and every series to make such image ideas work. But that often doesn't work either; this week in December, for example, I had a picture idea: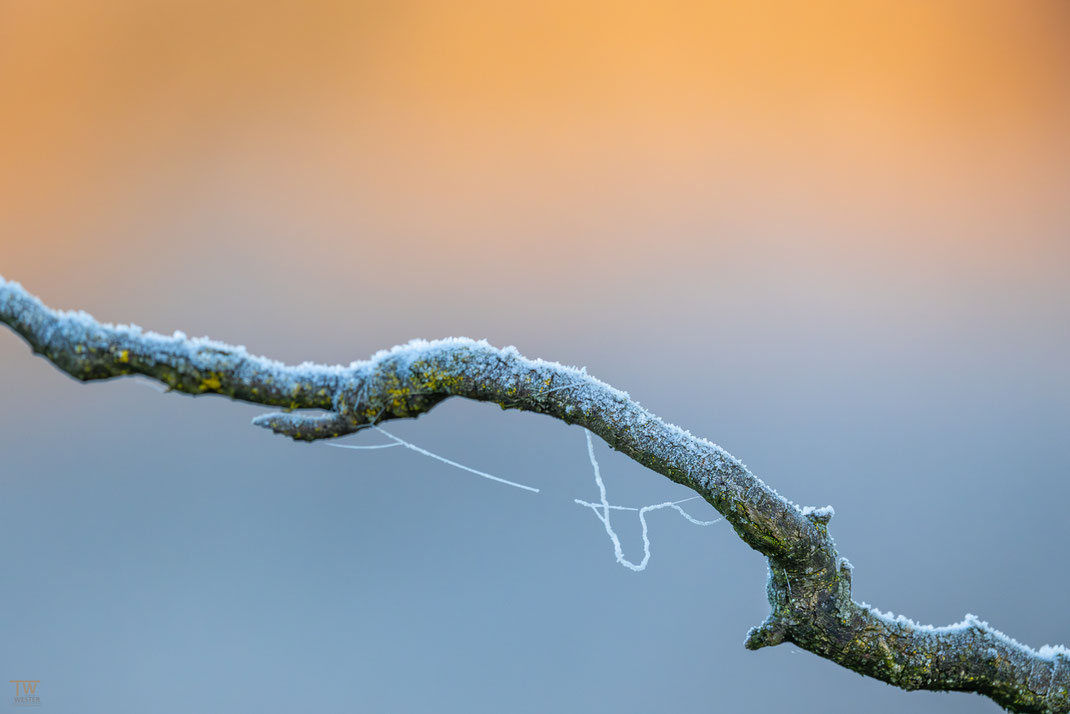 I had exactly this light with the colour contrast in mind. The golden morning light is already illuminating the landscape and the lake lying at my feet is in the shade and still appears deep blue. unfortunately, the kingfisher didn't come within the relevant time window of perhaps 10 minutes, although it kept flying around me. A short landing would have been enough for me. The autofocus issue was really the last of my problems. That's why I never took this picture. The problem occurs more frequently for me in nature photography, in contrast to a "fail" due to a non-fitting AutoFocus.
For the last 6 years I haven't noticed any real problems with AF. And I'm not even a wildlife specialist, they usually have their autofoci configured much more individually.
Now I don't have a legendary Sony A1 or a Canon behemoth, but a Nikon, whose autofocus, especially the automatic animal eye detection, is regularly lagging behind in "expert" reviews at the moment. There they are again, the "worlds". Why can't I feel this in practice?
I think it's simply because I know "my" system-specific autofocus (Nikon in this case) well - and know which metering field reaches its limits and when to refrain from automatic detection. I am also always very concerned with the correct pre-focussing, and also with the focus limitation and the correct lock-on. Nothing ground-breaking, but a lot of trial and error.
Have I achieved a 100% AF rate since then? Nope, I always have rejects. But I would like to say that in 99% of all important situations with animals that I was hoping to see, I come home with very satisfactory results and I don't miss the best scenes because of a "poor AF".
The following scene from May, for example, certainly had 120 exposures (approx. 6 seconds at 20fps) and of course also included a few pictures where the focus was slightly off, the animal practically flew a curve:
But in the end this is completely irrelevant, because who cares about a few less sharp images with more than 100 sharp images of a single flight scene? Incidentally, this scene (Z9) would have been no problem 6 years ago with a d850, but then with 54 images in 6 seconds...
My conclusion:
All the new functions and features in today's professional digital cameras make photography really convenient and in some cases downright easy; I am also regularly delighted by great new developments, especially when it comes to FPS, EVF and stabilisation.
However, when it comes to the features that determine photographic success on the camera side, for example in the context of image quality or autofocus, I have been talking about subtle differences in performance and a very high basic level for years. For a long time now, 99% of images no longer fail due to the technology, unless you want to use zoom lenses with 2x converters 😅
In my opinion, the very low weights and the great stabilisers of modern lenses have a much greater influence, which in practice allows me to reduce blurring caused by camera shake, to leave the tripod out more and more often and therefore to be able to react more spontaneously.
So before constantly looking for the next "grail" on the camera side, I personally recommend first tweaking the (technical) parameters that you as a photographer can influence yourself with the available technology.
In my opinion, it makes more sense to invest more time in planning or exploring nature than to constantly dedicate yourself to researching new camera models.
I just wanted to share these thoughts.
Thank you for your interest and best regards,
Thomas